Once you arrive in Germany and are ready to start receiving your Blocked Account funds you will need to activate your account. Let's go through the details step by step.

The money from the Blocked Account is not directly accessible. You are not able to pay for rent, or pay for food with a card like you would with a normal bank account like a debit card or 'Girokonto'. This is why you must set up a personal bank account in Germany (or an other SEPA country) that the monthly Blocked Account funds can be deposited into.
The money from the blocked account must be transferred into the personal bank account for example Monese. It's paperless, fast and efficient. You can get your account up and running with an online Identification process without even leaving your room. If you can not access Monese, feel free to choose any conventional banking provider in Germany.

Once you arrive in Germany, to receive your monthly disbursements, you will need to login to the Expatrio Portal, click "Activate" button next to your Blocked Account (as shown on the image below), and upload the following documents:
Visa document: Your German visa document (from your passport) OR your residence permit. Please make sure you take a colored copy (photo or scan) and that all the details are clear and easy to read. Please note that we can accept a document only if it does not expire within a month.
If you are a student from a country that allows you to stay in Germany for 90 days without a Visa or residence permit you can submit your enrollment form (Immatrikulation) from the school you are attending.
EU entry stamp: You can find this in your passport from when you entered the EU. We will need the full copy of the passport page containing the stamp. Please note this document should be colored too.
Proof of address: City registration ("Anmeldung") OR signed rental agreement OR signed landlord confirmation (Wohnungsgeberbescheinigung).
Banking document: The European bank account opening document OR monthly statement (for example a "Kontoauszug", a screenshot from your banking application or your account opening confirmation).
Your full name, IBAN and BIC must be specified on this document.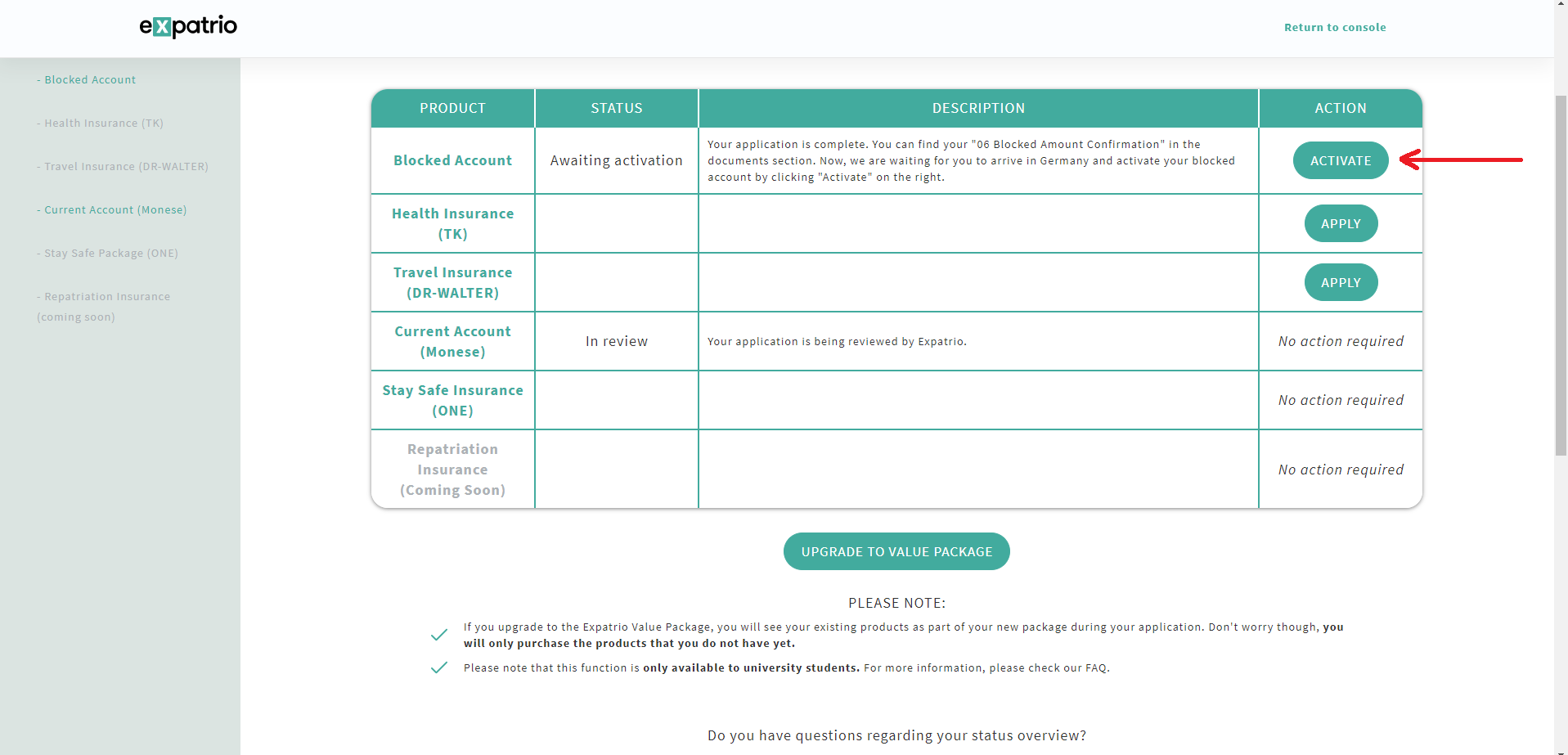 Expatrio confirms the Activation Orders every day and then processes them the following day.
As soon as it has been verified that your documents are sufficient we will activate your account the next working day. You will then receive your first monthly blocked amount within 3-5 business days.
The disbursements are scheduled automatically for the first week of each month. Should you have transferred more than the required Total Blocked Amount, you will receive the excess amount with the first disbursement. Your buffer will be transferred with the last disbursement.