To open and apply for a Blocked Account all you have to do is to go through the questionnaire section to identify what type of service is right for you. To open the questionnaire click apply or scroll down to start the process.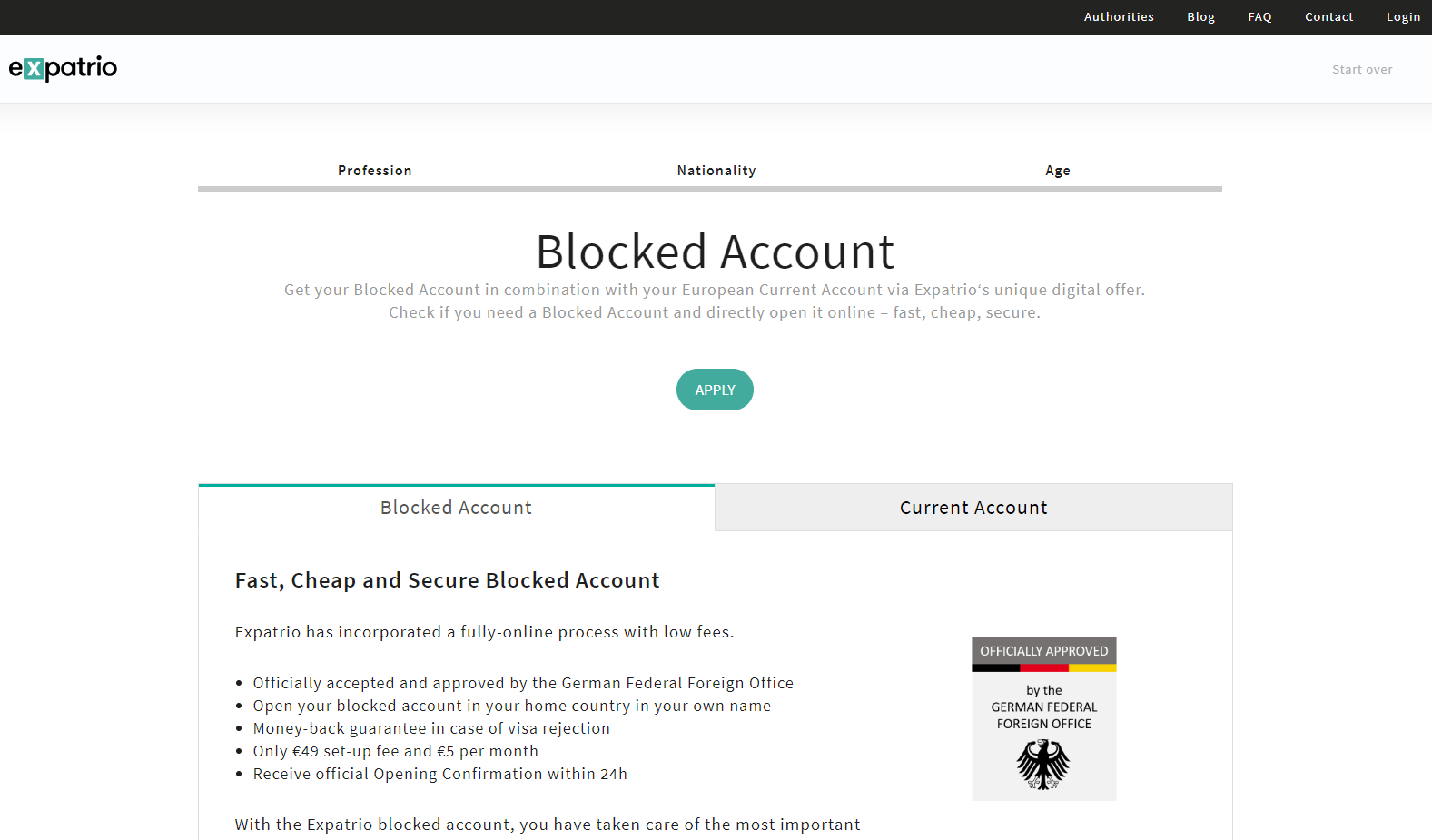 First of all, you need to mark whether you already have an Expatrio User Account or not.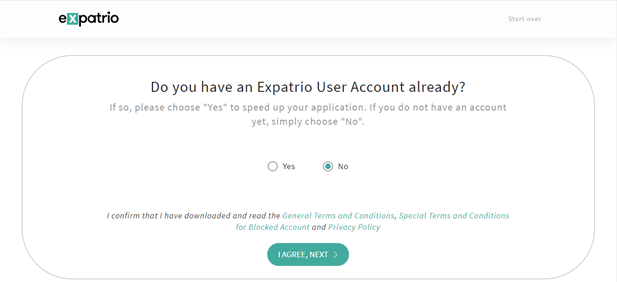 After doing so you will be asked about your occupation. Please, note that there is a Student and Language Student options, choose the option that fits your particular situation.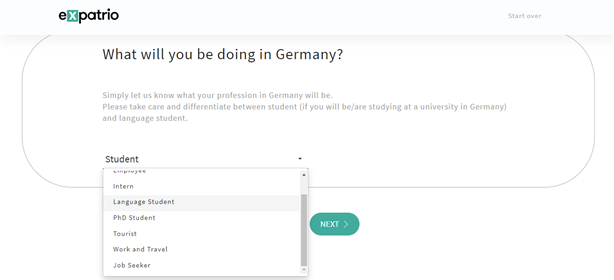 After the occupation is chosen, you would need to tell us about your nationality.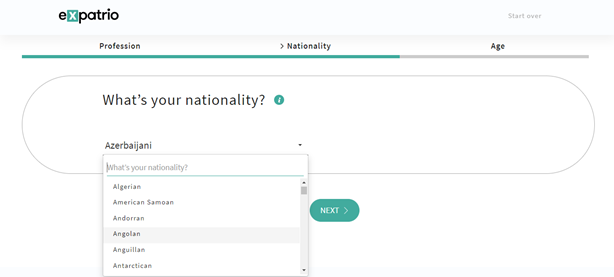 The last step in the questionnaire is about your age. You just need to mark whether you are over or under 18 years old.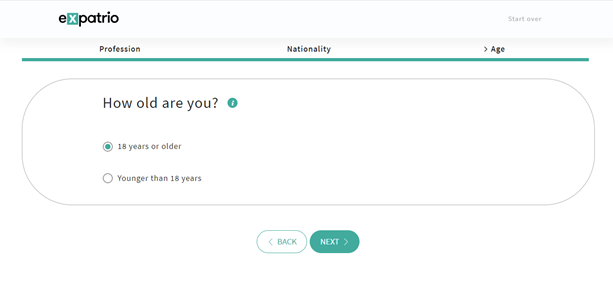 When the questionnaire is over you will be redirected to the page which would ask for more details about your Total Blocked Amount. Here, you would need to mark how long you are going to stay in Germany (which will constitute the duration of your Blocked Account), what is the monthly Blocked Amount that is required by the German Authority in your city, and whether there is a need for Additional Basic Sum (that is sometimes required by Foreign Authorities - if this should be applicable in your case, the authority handling your visa request would let you know). After filling in all the information you will see the calculation for the amount of money you need to transfer. Apart from the Required Blocked Amount, it will include a €49 setup fee and €5 monthly service fee.
For students, the presumed annual requirement that must be paid into the blocked account is currently €10,236 per year or €853 per month.
However, if you have already confirmed with your visa-issuing authority that you need to block more or less than €853 per month because of scholarship or any other reason, you can adjust the amount and send us the proof of the scholarship or any other documents that would clarify the need to have another Monthly Blocked Amount.
If your authority requires you to block more than €853 per month, simply choose €853 during application and contact us here right away to increase the amount. When contacting us, please choose "Blocked Account Change Request" as a category and attach the official proof from the German Authority stating that you need to have more than €853 per month.
★Account Buffer: If the money arrives short under €100, we will use the buffer to cover the difference. If this does not happen, we will return the buffer with the last monthly deposit from your blocked account into your personal German bank account
To finish the application process you will need to provide us with your Personal and Legal information. Please fill in the form with the exact same information that is shown on your passport.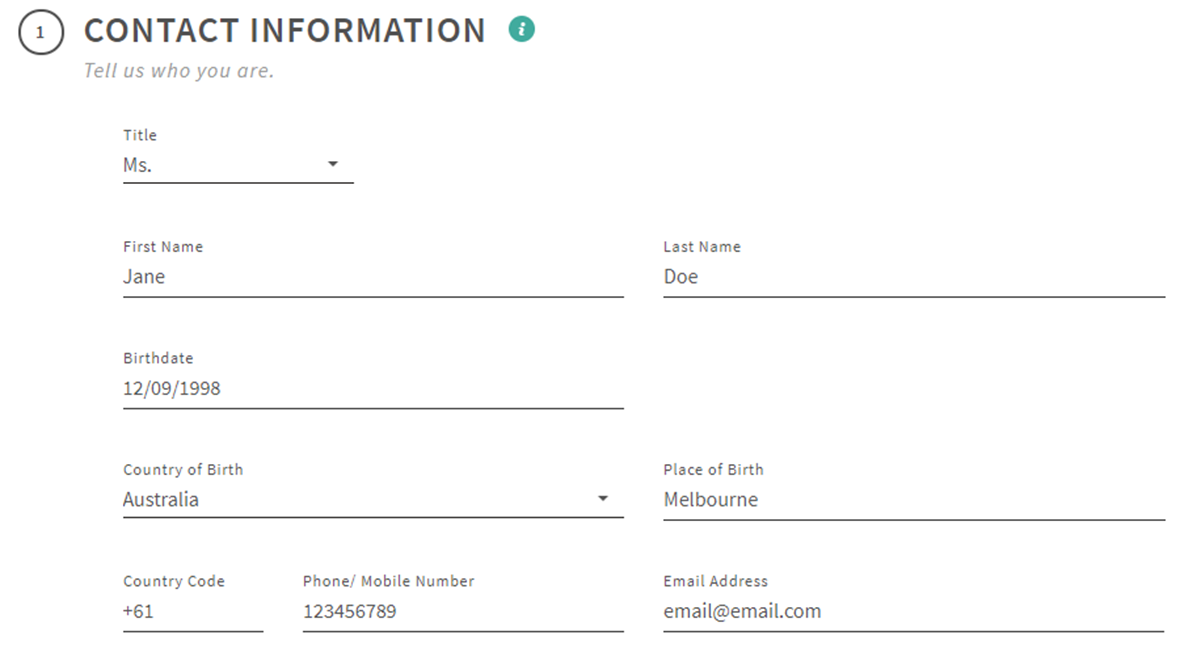 If you already have your German address, choose yes and write it down. If not, please write down your home address, outside Germany.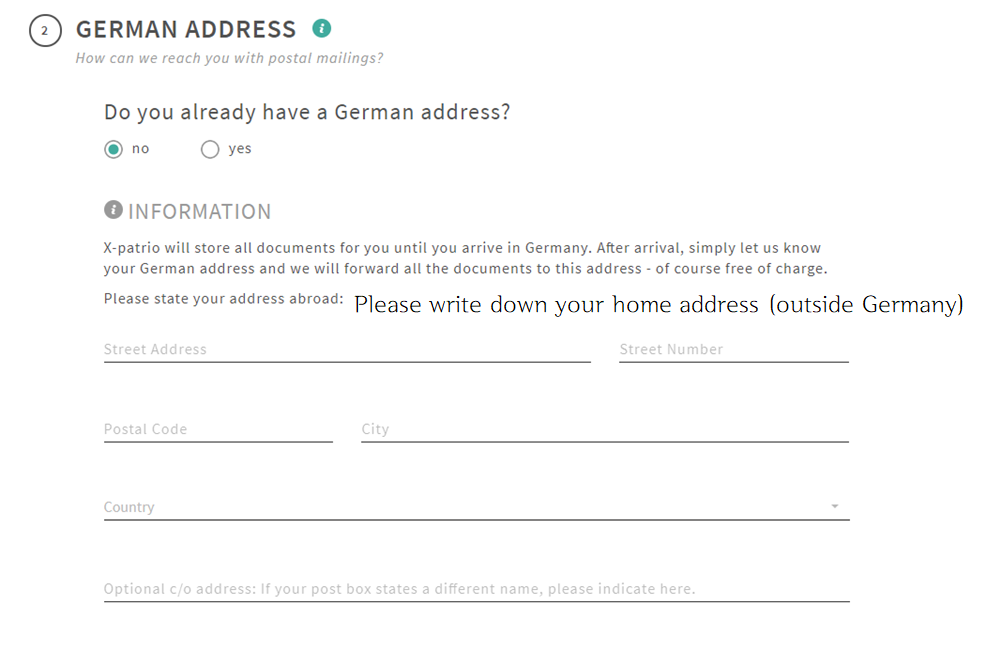 Choose the university you are planning to study at (search using the English name of the university). If you do not know the exact dates of your arrival or the start of studies just provide the approximate ones.

Mark how many semesters have you already studied (please count all the levels of education you had in any of the countries). Also, mark whether you have children or not.
As the next step, you will need to upload a color copy of your passport. All four corners have to be shown, with no information covered or blurred by holograms. The information which you have provided before must be the exact same information that is shown on your passport.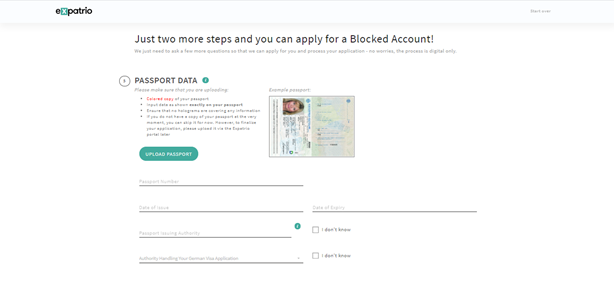 Next, you will be shown a summary of all the information you've provided so far. Please check whether everything is correct and then click "Apply".
The final step is Terms & Conditions, look them through and mark the boxes on the left side to agree and proceed. After clicking "Confirm and Submit" button you will receive an application confirmation email.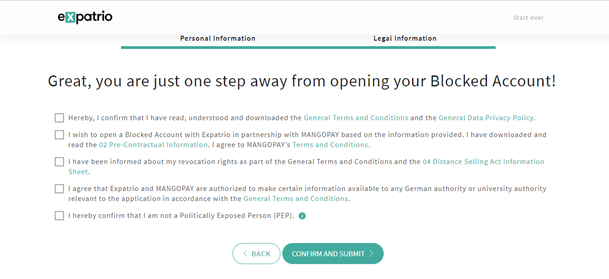 You will be able to download your 05 Blocked Account Opening Confirmation document from Expatrio User Portal within 24 hours after successful identification and verification. Meanwhile, you can use Expatrio to apply for Health Insurance.
Note: The Current Account that comes together with the Blocked Account is an additional feature Expatrio is providing and is not compulsory for activation. If you already have Current Bank Account in Germany or if you are planning to use another bank than Monese you can do it.
Related articles: