How is the Total Blocked Amount calculated?
The Total Blocked Amount consists of different parts. In the following, we will break it down for you:
Duration of stay in months: the time frame for which you need your blocked account (up to 12 months). This is also related to the monthly service fee
Monthly Blocked Amount: the amount you need to block for each month of stay in Germany. Usually, this is €861. However, the authorities might ask you for a different amount.
Additional Basic Sum: usually, this is not applicable. In case you need to deposit an Additional Basic Sum, the authority handling your visa request will let you know.
Account buffer: €100 used to cover unforeseeable banking charges and exchange rate fluctuations (this is to make sure, the required Blocked Amount arrives in your blocked account. Because unless the full amount arrives we would not be able to issue the Blocking Confirmation for your visa appointment).
Initial Set-up fee: €49
Monthly service fee: €5 per month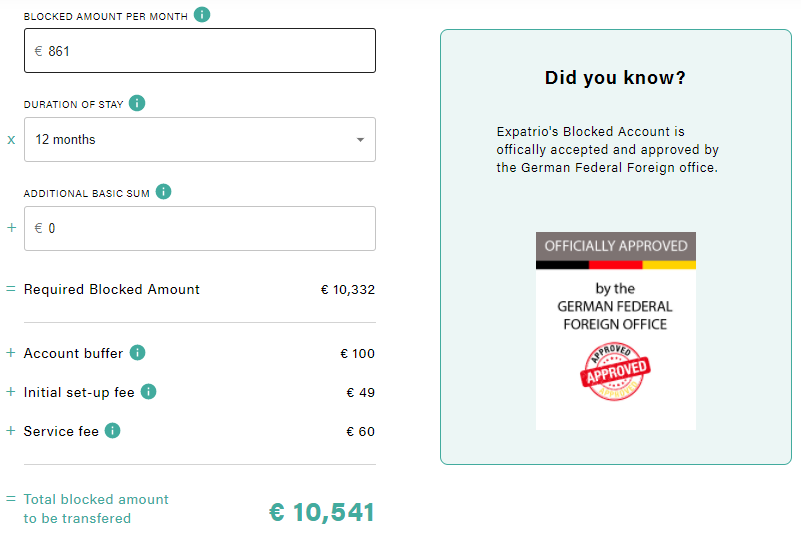 The Monthly Blocked Amount
The Monthly Blocked Amount is the minimum amount of money (usually €861 for students) you need to cover your living expenses while living in Germany as stipulated by the German Bundesausbildungsförderungsgesetz ("BAföG"). The exact amount you will need for your Blocked Account will be communicated to you by your local embassy or consulate on an individual basis.
The Additional Basic Sum
The Additional Basic Sum is an additional amount to be paid into your blocked account upon being requested by your local consulate or embassy. If the consulate or embassy has made no such request, please do not enter an Additional Basic Sum while ordering a Blocked Account. If you are however required to enter an Additional Basic Sum, it serves as a security during your stay in Germany. Please note that this amount remains blocked and cannot be paid out during your stay in Germany but will be refunded in full at the end of your stay.