Should you wish to close your Blocked Account (e.g. because your visa has been rejected), please follow the instructions below to receive your refund as soon as possible.
Note: please keep in mind that the closing process might take up to four weeks.
Documents needed
To close your blocked account you will need the below documents:
Sperrfreigabe
This is an official confirmation from the German authorities (an embassy or foreigners office) that confirms that we can release the funds from your blocked account.

In general, any document or letter that clearly comes from a German embassy or foreigners office and states that your blocked amount can be released, or that you do not have an approved or pending Visa application will be sufficient as a Sperrfreigabe.

You can also use a visa rejection letter as your Sperrfreigabe. Please note that not being able to receive an appointment at your embassy does not count as a visa rejection.

To learn more about the Sperrfreigabe and what is acceptable, please click here.

Important: the Sperrfreigabe can not be older than 6 months.
Bank document

We can return your funds to a bank account under your name, or to the original bank account where your funds came from. We can not send your funds to someone else's bank account if your funds did not came from that account originally.

Depending on which option you choose (transferring to your bank account or someone else's) we will need 1 of the below documents.

Closing Bank Document, if you want us to send the funds to an account under your name. This can be any document or letter from your bank, or even a screenshot from your banking platform. It has to have your full name as the account holder and your account number/IBAN. It has to be clear that the document is coming from your bank.

Closing Transfer Receipt, if you want us to return the funds to a bank account under someone else's name. Remember, this will be possible only if the funds were sent from this account to your blocked account originally. To prove this, we need you to upload a detailed receipt for the original transfer to your blocked account.

This document should show the following:

full name of the sender account holder
full IBAN/account number of the sender account holder
full recipient account number (this will have to match your original blocked account transfer details)
date of the transfer
amount of the transfer

Note: if your sponsor used a transfer provider to send the funds, please merge the receipt of the transfer from the sponsor's account to the transfer provider with the receipt of the transfer from the transfer provider to the blocked account into 1 file, and upload it as your closing transfer receipt. This is of course note applicable if your sponsor transferred directly to the account details we provided for the payment.
Blocked Account closing process
1. Inform us via this contact form (choose the category 'Blocked Account Closing').
2. We will enable you to initiate your closing process via your Expatrio User Portal by updating your Blocked Account status. You will receive an email once you can initiate the process.
3. After you have received the email, visit the Expatrio User Portal and go to your 'Blocked Account' page. On that page, click the 'Close' button.
4. Follow the instructions provided in the pop-up that will open after clicking the 'Close' button.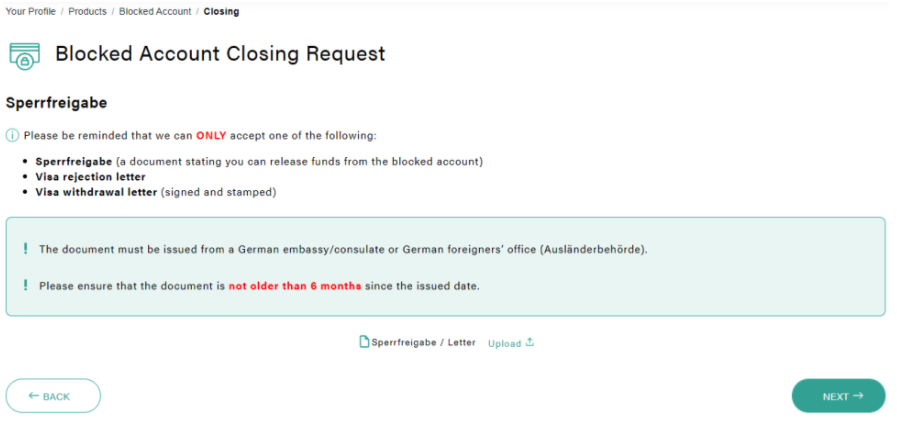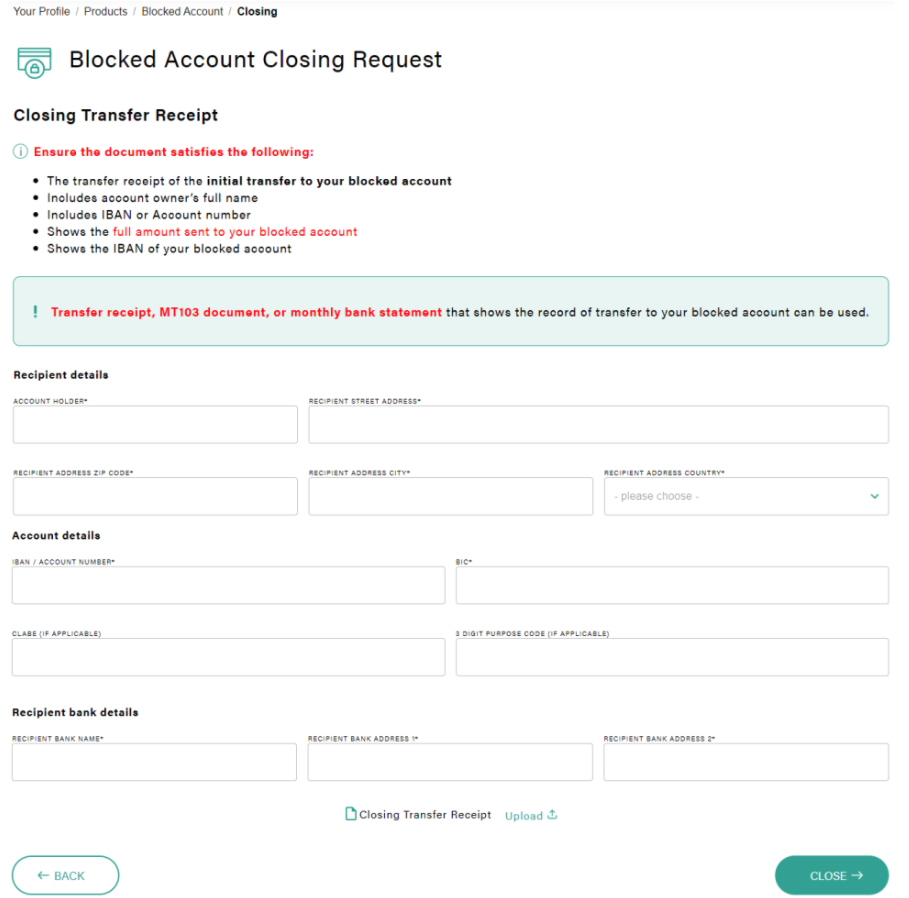 Once you have provided the necessary information and you have uploaded the required documents, click the 'Send' button on the down right corner.
5. The Total Blocked Amount less the fees will be sent back to you (in case of visa rejection, we will also refund all the fees). Should there be any bank or transfer fees, the €100 buffer will be used to cover the costs.