Get to know DR-WALTER (EDUCARE24) Private Insurance!

Anyone who wants to receive National Visa in Germany must apply for a health insurance. Employee and students would join the public health insurance fund, however,
those who have the possibility of frequent status change:
Language students
Working holiday
Study applicants
Or students who cannot join public health insurance regulations:
Older than 30 years old
Studied more than 14 semesters
must join Private Insurances. 

Expatrio presents 50+ years insurance expert DR-WALTER's EDUCARE 24 insurance products. Each and every insurance product Expatrio presents has coverage that satisfies visa requirements. Moreover, EDUCARE24 is a German insurance which has no risk to be refused or rejected from visa authorities.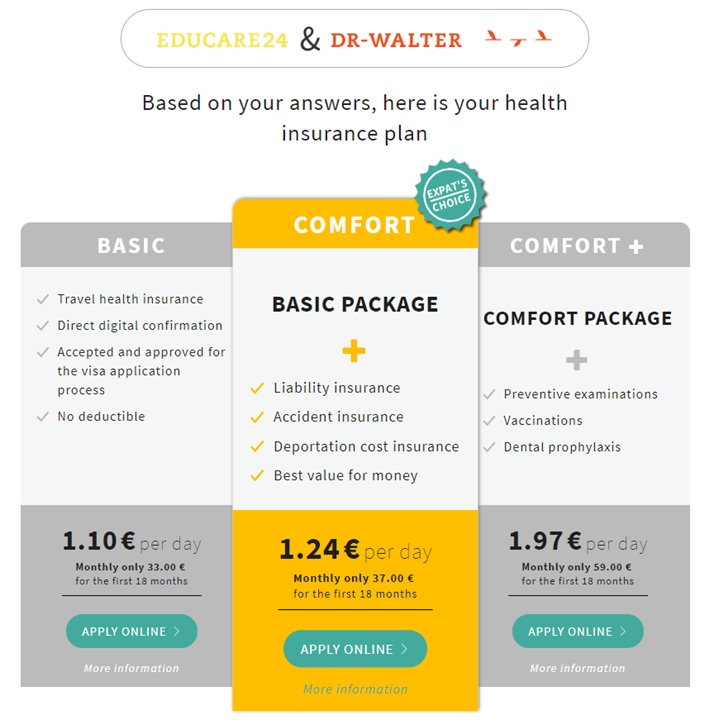 · BASIC: Health insurance
· COMFORT: Health insurance+Liability insurance·Accident insurance Expat's Choice!
· COMFORT+: Health insurance+Liability insurance·Accident insurance +Preventive examinations·Vaccinations (coverage equivalent to Public Health Insurances / recommended for students over 30 years old or who studied more than 14 semesters)
Benefits of the partnership between Expatrio and DR-WALTER 
EDUCARE24 is a combination insurance which not only includes health insurance but also liability and accident insurance.
All of EDUCARE 24 products are "no deductible" which means you have nothing to pay else than your set insurance fee.
Pregnancy and birth covered
Even covers when you are on your holiday trip overseas! (up to 6 weeks)
and 

★ NO complicated billing procedure

With Expatrio, you can apply for the insurance alongside with Blocked Account all at once online.
★You just have to submit the paper document we call "Ärzte Info Ticket" to doctor and DR-WALTER will take care of the billing with the doctor. After treatment, you just walk out of hassle.
Apply for DR-WALTER insurance through Expatrio fast and easy and enjoy your safe stay in Germany. With Expatrio, you will receive your Insurance Confirmation document within 24 hours.